Know the Questions to Ask: Prevent Unsecured Streaming Video in your School
Working with children in early learning means that safety is paramount.
Every day you demonstrate your commitment to safety with a secured school entry, staff CPR training, fire drills, and other rigorous safety practices. The camera system and streaming software you use is no exception: it's critical to ensure its security.
How secure is the streaming video you have or that you're considering installing at your school?
Several cameras from various childcare facilities across Canada were compromised allowing their video to appear on websites that stream footage from unsecured webcams.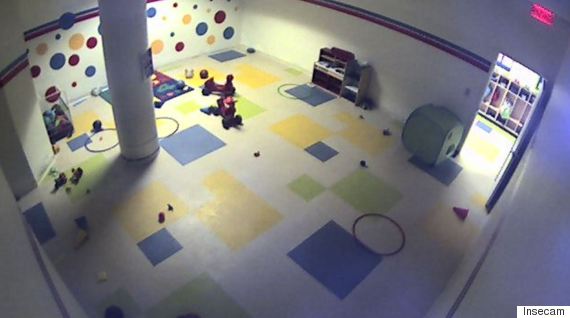 An unsecured webcam shows the interior of a daycare or preschool in Montreal. (Photo: Insecam)
This school in North Carolina unknowingly used a system that was not secure, and the results are incredibly concerning for the families and for the business. Watch the video.
Before you install streaming video webcams in your preschool or childcare, be sure to ask these key questions of your provider so that video from your school is not compromised.
Is my school data encrypted?
WatchMeGrow video encrypts login credentials, family data, and video streams. This protects your customers' privacy and minimizes the risk of being compromised. We are not aware of any other provider of streaming video for childcare who can offer this level of security.
Is my camera user access restricted?
Only approved users have access to WatchMeGrow streaming video in your center; as families leave, they are removed as users. Many off-the-shelf products only have one login that is shared among your families.
Can families watch video from my school anytime?
WatchMeGrow streaming video has limited viewing: parents can view only their child's classroom and only during open hours. Off-the-shelf products and some security streaming products were developed for gas stations and retailers. WatchMeGrow was built for the business of childcare.
Who disables old accounts as families dis-enroll?
WatchMeGrow automatically disables accounts that haven't been accessed in a long time, temporarily disables accounts after too many incorrect logins, and only allows one user at a time with the same login credentials.
Who is updating your software security?
Security is our top priority. Our team of developers is constantly working to improve and update our service as technology evolves. WatchMeGrow is the only company in this market that runs regular security scans to be sure our system is secure, making your school more secure.
WatchMeGrow streaming video offers unparalleled safety and security features. It is the only streaming video service developed especially for the business of preschool and childcare.