What to Know: Prevent Unsecured Streaming Video in your School
Working with children in early learning means that safety is paramount.
Every day you demonstrate your commitment to safety with a secured school entry, staff CPR training, fire drills, and other rigorous safety practices. The camera system and streaming software you use are no exception: it's critical to ensure its security.
What are the potential consequences of an unsecured streaming camera system?
Several cameras from various childcare facilities across Canada were compromised allowing their video to appear on websites that stream footage from unsecured webcams.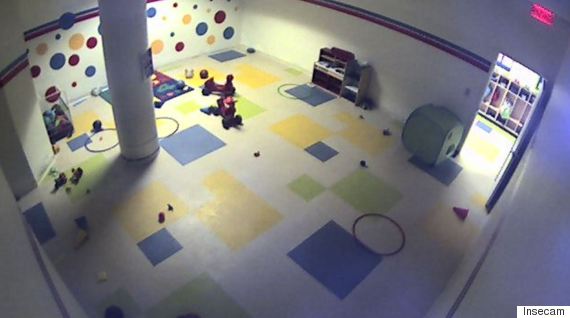 An unsecured webcam shows the interior of a daycare or preschool in Montreal. (Photo: Insecam)
This school in North Carolina unknowingly used a system that was not secure, and the results are incredibly concerning for the families and for the business. Watch the video.
Questions to ask before you select a camera system.
Before you install streaming video webcams in your preschool or childcare, be sure to ask these key questions of your provider so that video from your school is not compromised.
Is my data encrypted?
At WatchMeGrow, all data and personal information are stored in the cloud with Amazon Web Services (AWS), one of the world's most secure, powerful, and trusted cloud-based data solutions. AWS uses KMS (Key Management Service) to encrypt your data with validated cryptographic modules. We use AWS data centers and a network architected to protect information, identities, applications, and devices.
All video and user data, including usernames and passwords, streaming through our cameras and servers to our end users are encrypted using Transport Layer Security (TLS), the standard in internet data transfer security.
Is my camera user access restricted?
Only approved users have access to WatchMeGrow streaming video in your center; as families leave, they are removed as users.
Many off-the-shelf products only have one login that is shared among your families.
Can families stream video from my school anytime?
WatchMeGrow software lets you grant family access only when a child is in your care and only in the space where the child will be during a given time period. Your customers do not access video of your entire facility. You may disable individual cameras at any time, instantly.
Off-the-shelf products and some security streaming products were developed for gas stations and retailers.
Who disables old accounts as families dis-enroll?
WatchMeGrow automatically disables accounts that haven't been accessed in a long time, temporarily disables accounts after too many incorrect logins, and only allows one user at a time with the same login credentials.
Who is updating your software security?
WatchMeGrow software has been reviewed and verified by a dedicated team at ScienceSoft, a respected IT security firm. After a detailed evaluation, ScienceSoft determined that WatchMeGrow security protocols are the industry standard. We repeat this evaluation regularly to ensure consistent security as technology evolves.
We have found no other video streaming options in the industry to have undergone rigorous, third-party security testing. Some may claim to do software-based reviews, which lack the extent, precision, and expertise offered by ScienceSoft.
WatchMeGrow streaming video offers unparalleled safety and security features. It is the only streaming video service developed especially for the business of preschool and childcare.
---
School or childcare center? Find out how easy it is to add a secure WatchMeGrow system to your business. Schedule a Demo with our team today.
Family with children in care? Find a school near you that offers secure streaming video from WatchMeGrow.